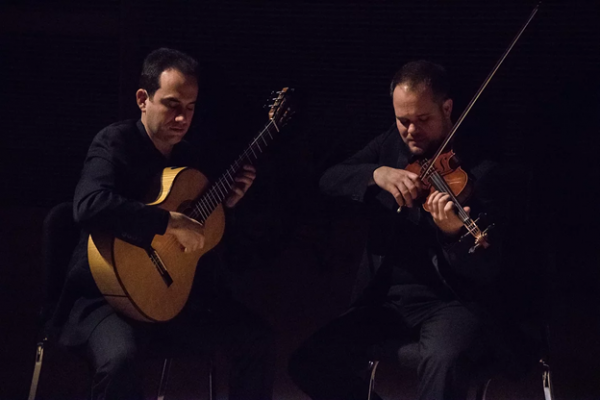 A world premiere is a big deal for a composer.
"It's the first time you've heard your piece performed live in front of an audience, which is an exhilarating experience. It's really the start of your creative output," says Natalie Draper, an accomplished composer and assistant professor at the College of Visual and Performing Arts' Setnor School of Music.
Audiences in Syracuse and beyond can experience no less than four world premieres during this semester's Music and Message series at Hendricks Chapel, as faculty and students from Setnor School present new music from Clarice Assad, João Luiz, Ian Shaw and Ivan Božičević. Music and message programs are held at the chapel on Sundays at 4 p.m., unless otherwise specified, from February 13 to May 8.
A world premiere is also a big deal for the performer tasked with sharing a new work with an audience for the first time, and it often involves months of dedicated practice and regular communication with the composer.
Duo Sonidos, a string duo consisting of William Knuth, an assistant violin professor at the Setnor School, and classical guitarist Adam Levin of the University of Rhode Island and the Kithara Project, are active promoters of new music. The musicians sought out new works by Brazilian composers Clarice Assad and João Luiz after receiving a composition grant from the Augustine Foundation and a 2021 VPA Research and Creation Fellowship.
The duo will perform them on March 6, as part of the ongoing Malmgren Concert Series, and will feature music from 20th and 21st century Americas with pieces by Assad and Luiz as anchors. The composers, who will be on campus for the premieres, plan to present their works to the public and meet with student composers and musicians during their stay.
"Adam and I are extremely excited about creating these works at Syracuse University," says Knuth. "As performers, some of the most exciting moments in our careers come from being given a new piece of music and having the chance to strip away the layers of discovery as we breathe life into the music for the first time."
Knuth says that as an artist he feels a great sense of responsibility towards the composer. "I always feel like I'm caring for or adopting someone's newborn with all the fragility and unmapped landscape that comes with such an experience."
Assad and Luiz are both nominated for multiple Grammy Awards, and the current version of Assad has been nominated for four Grammy Awards.
"They are also virtuoso performers in their own right and have very unique compositional voices incorporating elements of Brazilian rhythm, music and cultural concepts into the pieces," explains Knuth. "It's an honor to have these artists join our community for this event."
The winning works from Hendricks Chapel's first-ever organ commissioning competition will receive their first performances on April 10. This new competition for works for solo organ, led by Natalie Draper and university organist Anne Laver, generated more than 100 submissions in its first year. "Solomon and the Gnat" by Ian Shaw received first prize and "Rivers of Eden" by Ivan Božičević received second prize.
Laver, Assistant Professor of Applied Music and Performance at Setnor School, and Alex Meszler, Instructor at Setnor School, will perform the works. The program will also include new works for organ by student composers.
"Creating a space for new music is a way to diversify the musical experience, both for listeners and performers," says Laver, also artistic director of the Music and Message series. "Our students are looking for ways to make music relevant. Hiring composers who create for our current time and place is one way we can do that. We hope that the experience of hearing new music and meeting living composers will inspire them to pursue this work in their own musical careers.
The performances mentioned above are just a sample of the wide range of music that will be featured in the weekly Music and Message series. Other musical new releases include a performance of "Mass of Reconciliation" for choirs and jazz/funk band composed by José "Peppie" Calvar, Associate Professor of Applied Music and Performance and Assistant Director of Choral Activities at Setnor School , Thursday March. 10. Setnor School Choirs will perform a variety of new music on Sunday, February 27; Tuesday April 19 and Sunday May 1. The series will also include many depictions of music from previous centuries.
Malmgren's concert series is now woven into the music and message programs, always featuring the organ, Esther Malmgren's beloved instrument.
All are welcome to attend programs in person at Hendricks Chapel or online via Zoom. Visit chapel.syracuse.edu for the Zoom link and additional program information, including a full performance schedule.