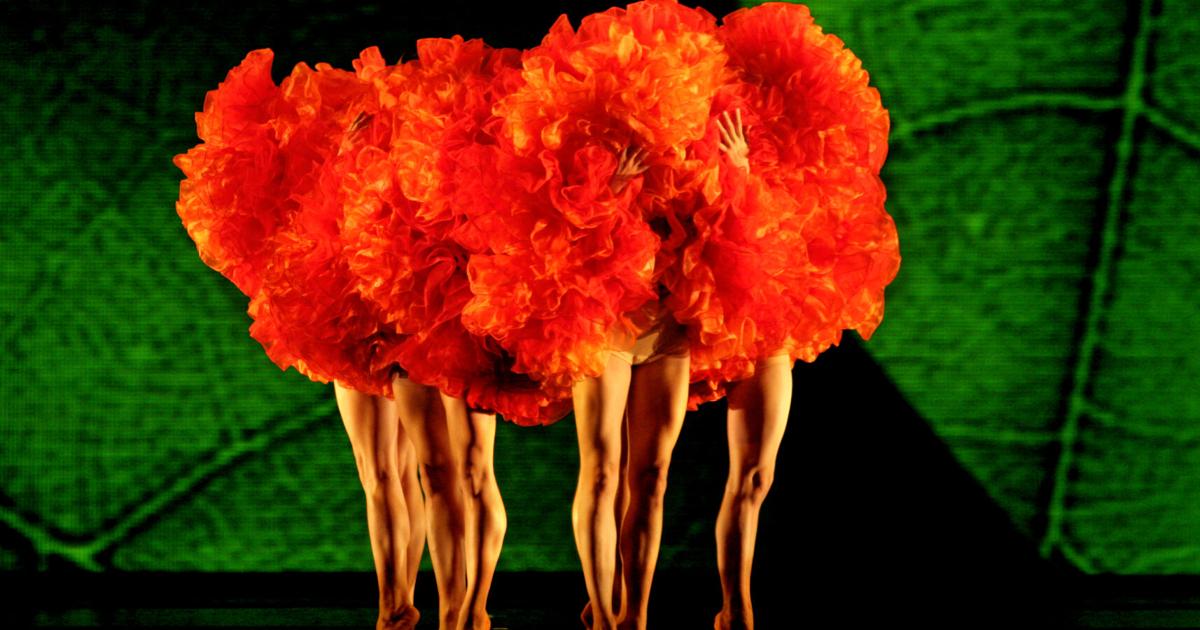 MOMIX offers an unforgettable visual experience
In 1971, Moses Pendleton co-founded the revolutionary Pilobolus Dance Theater in Connecticut, leading to the creation of MOMIX 10 years later, a chance for its dancers to combine athletic dance, captivating music, outrageous costumes, props and pure talent to present a show like no other.
Today, Pendleton continues as artistic director and is still not short of ideas for innovative visions of the human body on stage.
MOMIX is a show like no other – it presents an entertaining multimedia experience that transports audiences to a fantasy world through its signature use of magical lighting and imagery, emphasizing the beauty of the human form. combined with nature, music, scenography and life itself.
"It's dancing, but it's not dancing. It's a show that doesn't have the logic of a normal musical," Pendleton said. "We use puppets and props; there's ballet and acrobatics and weird illusions.
While Pendleton and company have brought MOMIX to the George Mason Arts Center in years past, on October 1, a special show will be played at the Fairfax called "Viva MOMIX". In the show, small vignettes make up the two-act performance, blending traditional MOMIX styles of illusion, beauty, magic, fun and inventiveness.
"People should enter MOMIX with no expectations other than to take a little trip into the lands of MOMIX to escape the harsh realities they may or may not be experiencing," Pendleton said. "It's very physical, entertaining and very fun too."
The exciting program is a variety of mix-and-match sections from some of MOMIX's most popular acts.
"It's a little fantasy world of almost 20 short numbers that are highlights of the moves we've made in productions over the years," Pendleton said. "We see it as a 'best of' type of show; it's our compilation album and each track has its own musical universe. It will move with the dynamics of a real vaudeville show.
For example, in "Botanica", the work shows the infinitely renewable energy of the performers using costumes, projections, bespoke props and puppets, on a score ranging from birdsong to Vivaldi.
One of Pendleton's favorites is "Marigold", performed by five dancers, dressed in several tutus dyed orange to make them look like large, bulbous marigolds.
"This is part of 'Botanica's larger production of gardens and plants, and it's a flower that we exhibit as a five-minute dance piece," he said. "You see the image of a flower moving, so it's Disneyesque that way, and the women go through a series of makeovers as the fluffy marigolds of the costume float up and down. It's quite whimsical and magical .
Next, audiences will journey down literature's most infamous rabbit hole, when MOMIX dancers perform 'Alice', a new work inspired by the children's classic 'Alice in Wonderland'. As Alice's body grows, shrinks, and grows again, Pendleton's dancers expand by means of props, ropes, and other dancers.
"Sometimes you find an idea and you can explore a chapter to see how you feel, and it's a way for us to try something new," Pendleton said. "We hope to bring the whole production to George Mason the next time we come to town."
Another work from the show is "Opus Cactus", where Pendleton brings the landscape of the American Southwest to life with his signature illusionist style creating dynamic images of cacti, crawling lizards and fire dancers.
The show also includes "Lunar Sea", which incorporates the use of illusionist costumes, ingenious lighting effects and gravity-defying physical imagery that results in transport to places never before imagined.
MOMIX will never cease to amaze, impress and inspire.
"Surprise is half the fun," Pendleton said. "Audiences like to try to understand what they are looking at."
For more information, visit cfa.calendar.gmu.edu/momix.