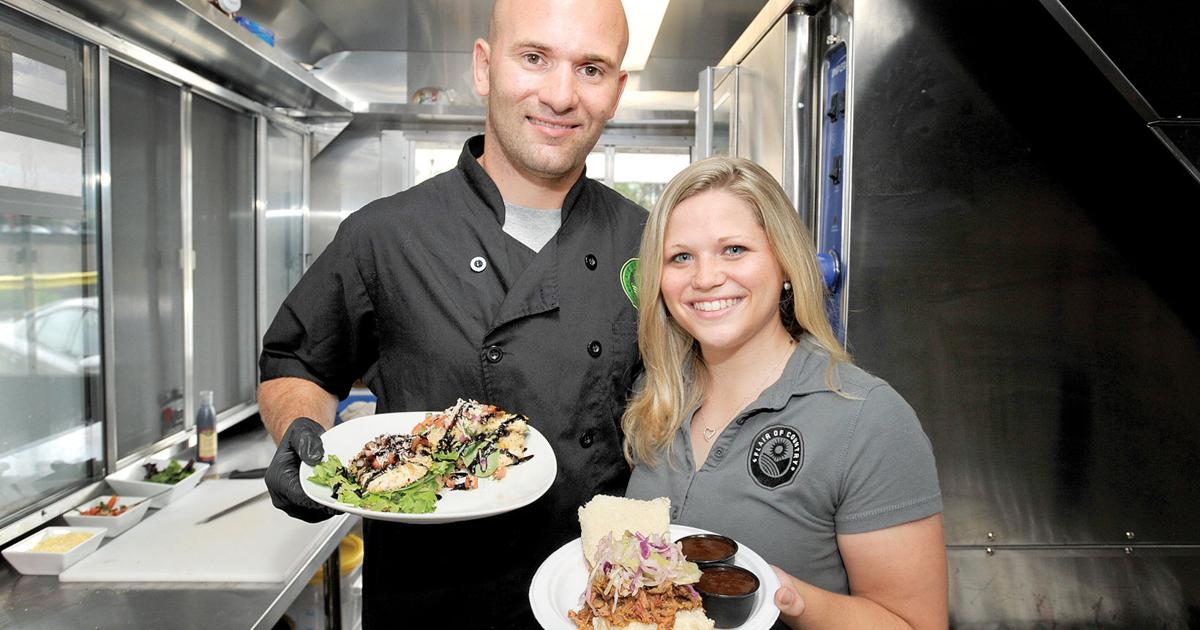 JOHNSTOWN — A Johnstown couple with a "flair" for dining plan to build a rustic wedding venue in Richland Township next year.
Flair of Country's Corey and Mindi Crocco are setting the stage to plant "The Willow" on 75 acres of Cambria County countryside in 2023, saying they envision a modernized barn-style venue that offers brides and event planners a customizable space.
"It will be a blank canvas inside," he said. "We want to give them a space where they can create the look they want," said Corey Crocco.
The couple had dreamed for years of creating a wedding venue that would feature their homemade country-style dishes, he said.
They acquired land for the site along Airport Road three years ago, but COVID-19 halted their plans.
Their vision for the venue includes a full-service commercial kitchen, a 7,000-square-foot dining room large enough for 350 people, and picturesque views, he said.
The couple launched their mobile catering business in 2015, enabling them to serve crowds at festivals, weddings and other special events.
They quickly recognized that rustic "barn weddings" are popular choices, but destinations in the region often lack essential amenities and are far removed from hotels and motels.
The Willow will be built as a year-round site with heating, air conditioning and utilities – providing a scenic setting just half a mile from accommodation and other needs, Crocco said.
Flair of Country, their original company, will manage the space.
If all goes well, work will begin this fall.
But construction isn't expected to begin until early spring, possibly March, Crocco said.
Airport officials have approved an easement to add a driveway to The Willows property through a small portion of airport property.
The authority also provisionally approved the group's authorization to develop the area south of the airport.
A zoning waiver was granted in 2020 by the Township of Richland to build the site inside the light industrial zone.
Crocco thanked First Sum-mit Bank, which helped fund the project, and Richland Township officials for their support throughout the process.
Crocco said final permits were being acquired to begin work.
Reservations for 2024 weddings will start accepting early next year, he said.
At the airport itself, work could soon advance on a terminal building cafe that would serve passengers during lunch hours.
The Croccos established a base inside John P. Murtha Johnstown-Cambria County Airport in 2016.
The café will be set up near the baggage claim area of ​​the terminal, next to a space already leased by Flair of Country.
Crocco said visitors will be able to choose from "to-go" items or everyday features often found on their mobile kitchen menu, such as the pulled pork macaroni and cheese sandwich, seasonal salads and other barbecue dishes. .
"We plan to open (the cafe) in January after our busy season is over," he said.
Catering business is growing at the airport site thanks to a lease that rises to $800 a month in 2023, authority officials said Tuesday.
David Hurst is a reporter for The Tribune-Democrat. Follow him on Twitter and Instagram @TDDavidHurst.