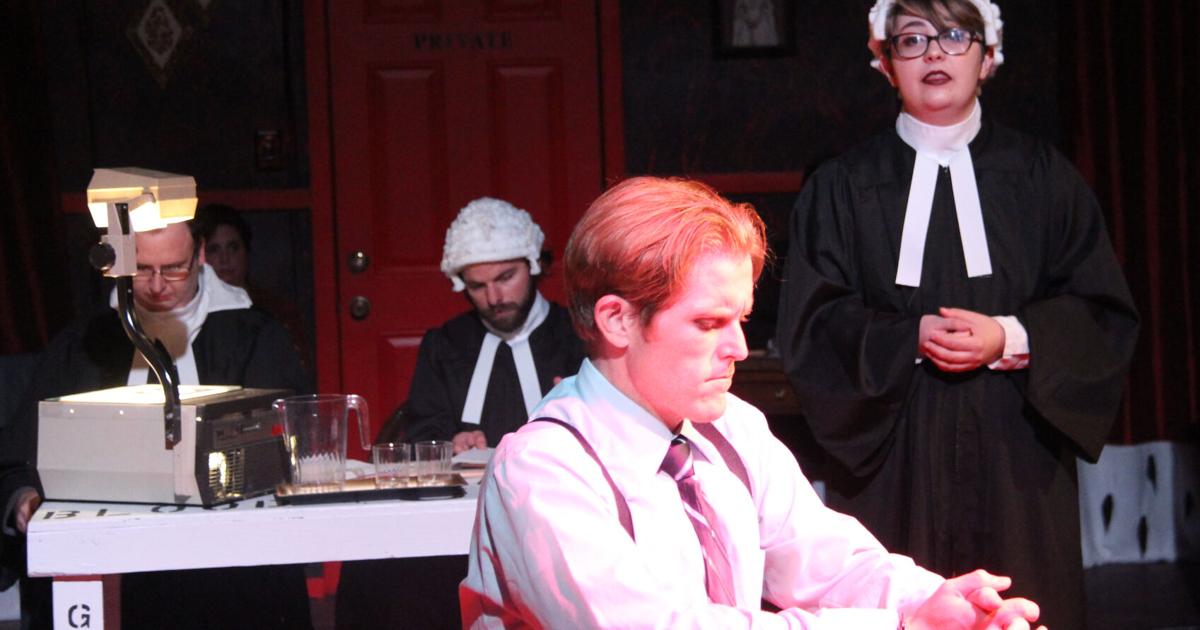 Opening just a day after what would have been Agatha Christie's 132nd birthday, CLOTA's new production of Christie's "Witness for the Prosecution" offers a truly captivating theatrical experience.
The play – which opens on Friday – is directed by local playwright and novelist Daniel Stallings, who said he failed to tie in with the anniversary when scheduling dates. Although a self-proclaimed "superfan", Stallings said he always knew that when he was directing someone else's play, he wanted it to be by Christie.
This production does not disappoint. From the stunning, expressionistic setting to the excellent acting and inventive direction, "Witness for the Prosecution" is a thrilling experience full of suspense. That is, unless you've already seen the classic movie starring Marlene Dietrich. In this case, the suspense may be a little less, but the play will entertain all the same.
The story resumes the murder trial of a certain Leonard Vole (Calvin Johnson in a breathtaking tour de force). Did he? That's the question, of course, and the one the infamous lawsuit attempts to answer.
Vole is accused of killing wealthy widow Emily French (who is only seen in one photo). The entire story takes place in his lawyer's office and in court and the exposition comes in the form of interviews and testimony in court. In recent years, true crimes and court cases have become a high-profile source of entertainment. But that's where it all started, folks. No one unfolds a legal drama better than Dame Agatha.
What makes the performance so delightful is that the theatrical elements are on par with Christie's work. The stylized red and black ensemble works perfectly to convey the high-stakes situation for someone accused of murder in 1950s England. (Full disclosure: This reporter's mother, Dorothy Saitz, and Sandy Pryor did the striking paintings above and inside the stage door.)
Avoiding spoilers, the direction takes some bold and successful risks that set it apart from most homegrown productions. The courtroom scenes in which Vole fights for his life do well as pure drama.
Each actor nails their role, with Beth Sparks-Jacques in particular playing the role of Dietrich with panache. Sparks-Jacques also made the costumes, which are wonderful (especially his). It's a fun show to watch.
Also of note are Jonathan Blair and Olivia Holm as two opposing attorneys. Watching these two tangle in the courtroom is high-level entertainment.
Other actors include Haley Puckett, Ed Kramer, Stallings, River Cotterell, Monica Dwyer, Nicole Johnson, Madeleine Smith and Murolo Patchin. It's a cliché to say that there are no small roles, only small actors. This means that a good actor can turn a small role into a memorable role. In this case it is true. Even the smallest characters are rendered with a classic theatrical flair. I was particularly impressed with the decision to use English accents where appropriate. Done wrong, it can really hurt. But these accents were perfect and really added to the atmosphere of the room.
It seemed like quite a long play, but it keeps the suspense going throughout. I honestly didn't see the ending coming and was shocked. (The review is for the dress rehearsal/press preview on Tuesday night.) I also found it oddly funny, which may be due to the excellent character introduced.
Minus a few dress rehearsal blurbs, the technical elements of the play flowed perfectly. I don't list the technical team, but they all deserve congratulations. I was also particularly impressed with all the graphics associated with this production. Even the program looks really cool.
In another note, the play is set during the reign of Queen Elizabeth II who literally just became history. Her photo is seen on a back wall and her recent death adds another eerie moment that adds to the overall atmosphere.
"Witness for the Prosecution" performs October 16, 17, 23, 24, 30, and 1 at 7:30 p.m. at CLOTA Center Stage (1425 N. Inyo St.). Doors open at 7 p.m. Tickets are $18 for general admission, $15 for students and military with valid ID, and $12 for active CLOTA members. Tickets are available now at Red Rock Books and online at clota.org.