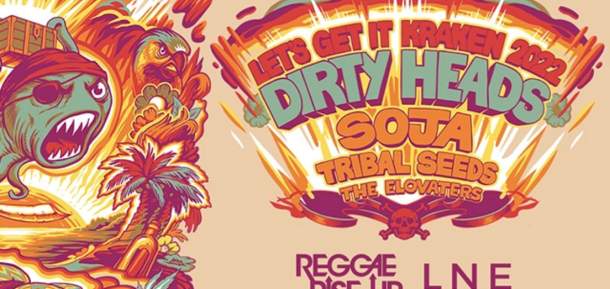 Presented by Reggae Rise Up and Live Nite Events, Dirty Heads returns to the Downtown Las Vegas Event Center on Saturday August 6, with their "Let's Get It Kraken 2022" tour.
Known for their hits 'Vacation' and 'Lay Me Down', Huntington Beach natives Dirty Heads bring an immersive experience to the music scene by blending hip-hop, rock and reggae, churning out top-notch SoCal tunes and… contagious grooves. Their latest single, "Life's Been Good", is their take on Joe Walsh's 1978 hit – check it out here. With Grammy-winning SOJA, Tribal Seeds and The Elovaters, locals and tourists alike are invited to experience an evening of reggae fun under the sun with good vibes, good drinks and unparalleled sounds.
Doors open at 6:00 p.m. on Saturday August 6th. The event is for all ages. General admission tickets are on sale now and can be purchased here.
For your convenience, the Downtown Las Vegas Event Center has partnered with the City of Las Vegas to offer plenty of parking options for event-goers at a discounted rate. To purchase parking for Dirty Heads, visit https://dlvec.com/parking
For more information on the Downtown Las Vegas Events Center, visit https://dlvec.com